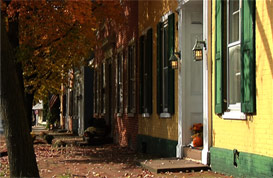 The Mechanicsburg area is comprised of multiple municipalities within the 17050 and 17055 zip codes. With its name taken from the Borough of Mechanicsburg at its geographic center, the region includes all or portions of Hampden Township, Lower Allen Township (including the village of Lisburn), Monroe Township, Silver Spring Township (including the village of New Kingstown – 17072) and Upper Allen Township (including the villages of Bowmansdale and Grantham – 17027). Parts of East Pennsboro Township (Cumberland County), Fairview Township (York County) and Monaghan Township (York County) use a Mechanicsburg address as well.
With its many municipalities, the Mechanicsburg area offers business and residential opportunities that range from the typical downtown business and commercial highway districts to centuries old neighborhoods, modern developments, and quiet country settings.
Mechanicsburg derives its name from the settling of mechanics who repaired and made wagons in the early 1800's. It has continued to be a transportation hub through rail – from the Cumberland Valley Railroad to today's Norfolk Southern lines – and roadways – Interstates 76, 81, 83 and US Routes 11 & 15. With the confluence of major road systems, these routes make Mechanicsburg easily accessible to all major metropolitan areas of the East Coast. Mechanicsburg is within a 30 minute drive to Harrisburg/Hershey and within a two hour drive of Philadelphia, PA; Baltimore, MD; and Washington, DC.
Mechanicsburg is served by the Cumberland Valley, Mechanicsburg, and West Shore School Districts, as well as several parochial schools. There are also several state, technical and private institutions of postsecondary education within a 30 mile radius.
If you are interested in relocating to the Mechanicsburg area, please contact the Mechanicsburg Chamber of Commerce at 717-796-0811 or info@mechanicsburgchamber.org.
Municipal and County Government offices

Borough of Mechanicsburg: 717-691-3310 – Website
Hampden Township: 717-761-0119 – Website
Lower Allen Township: 717-975-7575
Monroe Township: 717-697-4613
Silver Spring Township: 717-766-1078 – Website
Upper Allen Township: 717-766-0756
Cumberland County: 888-697-0371

Area Police Departments

Borough of Mechanicsburg: 717-691-3330
Hampden Township: 717-761-0119
Lower Allen Township: 717-238-9676
Monroe Township: 717-249-2121 (PA State Police)
Silver Spring Township: 717-697-0607
Upper Allen Township: 717-795-2445

Area Public Schools

Cumberland Valley: 717-697-8261
Mechanicsburg: 717-691-4500 – Website
West Shore: 717-938-9577
Cumberland Perry Area Vocational Technical School: 717-697-0354
East Pennsboro: 717-732-3601
Northern York County: 717-432-8691

Area Private Schools

Bible Baptist School: 717-737-3550
Saint Joseph School: 717-766-2564 – Website
Trinity High School: 717-761-1116

Elected Officials (State offices)

Representative Greg Rothman, 87th District: 717-975-2235 – Website
Representative Sheryl Delozier, 88th District: 717-761-4665 – Website
Representative Dawn Keefer, 92nd District: 717-432-0792
Representative Stephen Bloom, 199th District: 717-249-1990
Senator Mike Regan, 31st District: 717-975-1985

Newspapers

The Patriot-News: 717-255-8150 – Website
The Sentinel: 717-243-2611 – Website

Miscellaneous Contacts

Tax Collectors – Website
County, Municipal and School Tax Rates – Website
Cumberland Valley Visitors Bureau: 888-513-5130 – Website
Mechanicsburg Museum Association: 717-697-6088 – Website
Cumberland County Historical Society: 717-249-7610